Australia's economy is poised to grow strongly next year as lockdowns end and borders reopen, with the Reserve Bank of Australia predicting a sharp rebound.
The RBA, in its most recent quarterly statement on monetary policy, said the recent lockdowns in Melbourne, Sydney and other parts of the country had "delayed but not derailed the economic recovery that was underway in the first half of the year".
The RBA is expecting a rapid bounce-back in domestic demand in the December 2021 and March 2022 quarters, and for the economy to be broadly in line with its pre-Delta recovery path by mid-2022. Spending will continue to grow steadily after that, supported by high levels of household wealth and a strong job market:
Total household wealth increased 19.5% in the year to June, with the average Australian worth a record $522,032, according to the Australian Bureau of Statistics 
The unemployment rate (currently 5.2%) is expected to be under 5% by the end of 2021, before falling to 4% by mid-2023, according to the RBA
That all spells good news for Australia's economy.
As the table below shows, the RBA has tipped GDP to grow by 5.5% during 2022, up from the 4.25% previously predicted.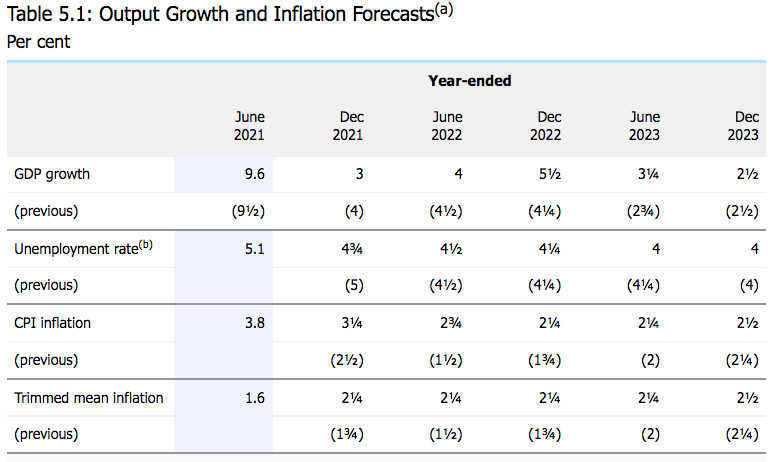 Business confidence soars to a six month high
The good news doesn't stop there.
NAB reported its monthly survey of business conditions – which measures sales, profits and employment – had jumped to +11 index points in October, taking the index above its long-term average.
Business confidence also surged, climbing 11 points to +21 index points – its highest level since April. Victoria led the charge, with business sentiment rising a heady 18 points.
"Confidence began to rebound [in September] as reopening plans were announced, and that continued in October as businesses saw those plans begin to become a reality," said NAB's chief economist, Alan Oster.
So what does this all mean?
Well, with sales and profits all picking up, it suggests businesses will start looking for ways to grow again – whether by investing in equipment, machinery or new premises. After all, a resurgent economy, low interest rates and pent-up consumer demand make for a potent combination.
Are you thinking about growing your business?
If you're like many business owners, you're constantly pushing to take your business to the next level. However, many companies are struggling to get finance right now, as lenders have tightened their eligibility criteria in light of the pandemic.
If you apply with the wrong lender or structure your application incorrectly, you might get rejected – potentially damaging your credit score in the process.
That's why working with an experienced loan broker, like NMC Finance, can help.
At NMC Finance, we're experts in asset and commercial finance, so we know lenders' policies inside-out. We can help you secure the working capital you need with terms tailored to your businesses needs.
Need an expert finance broker on your side? Contact NMC Finance by calling Nathan Coad on 0498 766 639 or emailing nathan.coad@nmcfinance.com.au.