The Australian property market is undeniably hot, with housing values increasing by another 1.5% in September, according to CoreLogic.
That rise means national values have grown by 17.6% over 2021 alone. And when compared to the same time last year, prices are up by a stunning 20.3% – the fastest annual rise in 32 years.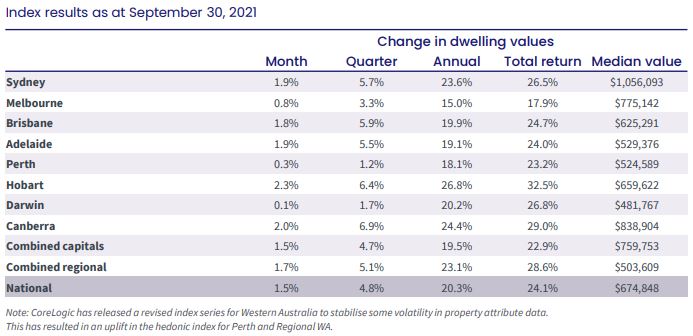 Every capital city saw a jump in prices over September, with the combined capitals growing 1.5%. Across regional Australia, property values lifted 1.7% over the month.
So what's driving the property price surge?
Interest rates are at historic lows
First, home loans are insanely cheap right now.
Home loan lenders reduced mortgage rates to record lows after the Reserve Bank of Australia (RBA) slashed the official cash rate to 0.10% in November 2020. As a result, it's possible to get a home loan that starts with a '1' – an unthinkable prospect two years ago.
What's more, these rock-bottom rates are unlikely to rise anytime soon. The RBA's board has repeatedly maintained it will not increase the cash rate until actual inflation is sustainably within the 2-3% target range. The central bank doesn't expect this to happen until 2023.
More competition for limited stock
This cheap money tempted many people into the market. But the more buyers there are around, the more competition there is for properties – helping push prices up.
Making the problem worse is a shortage of listings on the market, so there is a disconnect between demand and supply.
In September, total advertised supply levels nationwide were 28.1% below the five-year average, according to CoreLogic. However, while inventory levels are low, the number of home sales was 25.5% higher than the five-year average and 41.9% higher year on year.
Conditions like these are ripe for creating a sense of FOMO – fear of missing out – among buyers.
So how do you give yourself a fighting chance in such a hot market?
By getting pre-approved on your home loan.
Why it pays to get your finance ready
To beat the competition, you need to be able to move fast. That way, the property you've got your heart set on won't get snapped up before you know it.
Home loan pre-approval is when a lender conditionally approves your mortgage application based on an initial assessment of your finances.
While it isn't an iron-clad guarantee you'll get formally approved on your house loan, it does mean you can make an offer in confidence. That's because pre-approval gives you a good indication of how much you can afford to pay for a property.
And that's not the only benefit that comes from being pre-approved. It also:
Shows the vendor you're a serious buyer – potentially giving you an edge over other buyers who haven't got their finance ready
Saves time on your formal home loan approval – as most of the work has already been done
Let's you bid with confidence at an auction – as you have a clear limit
How to get pre-approval
With the property market well and truly booming, getting pre-approval on your home loan has never been more important.
But it can be a challenging and time-consuming task because you need to:
Compare dozens of lenders and hundreds of loan products
Structure your loan application to maximise your chances of approval
That's why it can be a good idea to get help from home loan brokers.
An expert home loan mortgage broker like NMC Finance takes the guesswork out of the process. That's because a good finance broker knows the ins and outs of lenders' eligibility criteria. Your loan broker can then find you the best possible deal from the mortgage lenders you qualify with. They can then guide you through the process of applying for a mortgage loan pre-approval – saving you time, stress and money. 
Call Nathan Coad on 0498 766 639 to book your obligation-free consultation or fill in this online form.